Springville High Red Devils
Class Of 1969
In Memory
Tamra Swenson (Cobbley)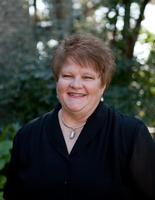 Tamra JoEll (Swenson) Cobbley
April 22, 1951 ~ February 15, 2023 (age 71)
Tamra JoEll Swenson Cobbley of Mapleton, Utah, passed away peacefully on Wednesday, February 15, 2023 surrounded by her family after a two-year battle with breast cancer.

She was born April 22, 1951, to John Carl and JoEll Meyrick Swenson in Provo, Utah. She grew up in Springville and loved to socialize, play the piano, dance, and sew. She married her high school sweetheart, Boyd G. Cobbley, 6 weeks after graduation, on July 11, 1969, in the Salt Lake City LDS Temple. Together they welcomed six children.

Tamra showed Christ-like love for all— young, old; rich, poor; she loved everyone and was able to connect with people at every turn. She was never one to hold still as there were people to serve, things to do, and moments to celebrate. She made everyone feel welcomed and wanted. Our beloved "Red Squirrel" loved to garden, quilt, travel the world, and go to Starbucks with her grandkids.

She was a devoted member of the Church of Jesus Christ of Latter-day Saints. She served in many auxiliaries including Relief Society, Young Womens, and Primary. She played the piano and organ beautifully and blessed the wards she lived in with her talents. She loved coordinating activities as the Ward Activities Chair, and just before her death was campaigning hard for a gig in Primary when her health would allow.

Tamra is survived by her husband; five children, Sheila (Kenneth) Nelson, Gilbert, AZ; Marsha (Daniel) Provonsha, Queen Creek, AZ; Daniel (Brittney) Cobbley, Lehi, UT; Alison (DJ) Broadbent, Spanish Fork, UT; and Benjamin Cobbley, Mapleton, UT; 13 grandchildren; one great grand-daughter; and her siblings Kenneth (Debbie) Swenson, Salem, UT; David (Melissa) Swenson, Price, UT; Elaine (Todd) Olsen, Springville, UT; and Paula (John) Averett, Springville, UT. She was preceded in death by her parents and daughter, Sharon.

A viewing will be held Thursday, February 23, 2023 from 6:00 to 8:00 pm at Wheeler Mortuary-Mapleton, 82 West 400 North, Mapleton, Utah, and again on Friday morning from 9:30 - 10:30am at the LDS Church, 1050 N. 300 West, Mapleton, Utah. Funeral services will be held Friday, February 24, 2023 at 11:00am at the LDS Church, 1050 N. 300 West, Mapleton, Utah. Interment will be at the Provo City Cemetery, 610 S. State Street, Provo, Utah.