Springville High Red Devils
Class Of 1969
In Memory
Dennis Robertson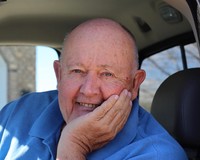 Dennis M Robertson, 65, of Springville passed away on Friday, September 9, 2016. He was born to Dennis E and Kathryn Martindale Robertson of Springville on March 9, 1951. He spent his life in Springville and was a proud Red Devil from the Class of 1969.

Dennis would like you to know his work here is done. He received an offer he couldn't refuse to reunite with the family he has not seen in a long time. He was preceded in death by his sister Jan and is survived by his son, Joshua Lloyd & his wife Whitney whom he loved immeasurably.

Denny was a town icon who taught us that you can create your own family by getting out there and caring for others. His big frame towered over most, yet so elegantly floated down slopes on two skies and through canyons on two wheels. It was astonishing to watch him lead a group of friends down winding roads and he always looked out for everyone. He was more than well-known everywhere he went which spread over the hundreds of miles he often travelled to photograph and appreciate the world around him.

As an undeniable ladies' man, he never missed the opportunity to compliment a woman's shoes, especially high heels. His laughter was as addictive as his guacamole and we loved him with all our hearts! His laugh was infectious and we were all victims of the laughing fits it caused.

He was renowned for his wide range of knowledge and expertise. He loved discussing everything from the origin of man to the mysteries of the universe. The love of oratory and debate he cultivated in high school followed him throughout his life and he loved nothing more than tangling with anyone interested in a battle of wits. Legendary for his love of life and good food, he was an accomplished chef and an artist with a camera, having won numerous awards for his photography, which hangs on the walls in many homes and has been shown in the galleries of the Springville Museum of Art.

When thunder rumbles from above, we will forever think of 'Big D' riding through the sky reminding us of what he preached so often, 'Be nice to each other and enjoy the little things in life that we so often take for granted. Spread love and laughter in everything you do.'

On behalf of everyone's life you touched, Thank You for the impact you had on us.

A celebration of Denny's wonderful life will be held on Sunday, September 18th at 3:00 pm at the Kiwanis Fireplace at Kelly's Grove in Hobble Creek Canyon. Please bring your own chairs and beverages. A light lunch will be served. Don't worry about flowers, Denny's photographs will suffice. Donations will be applied to an appropriate memorial at a future date.