Springville High Red Devils
Class Of 1969
In Memory
Dennis Mortensen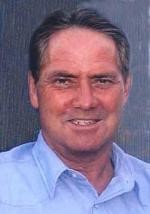 Dennis LaDell Mortensen
1951 ~ 2009
After a long and valiant fight against cancer during which he never complained, Dennis LaDell Mortensen passed away June 3, 2009, in Houston, Texas, at the age of 58. He was surrounded by his loving family.
Dennis is survived by his wife Pamela Kay, daughters Denise Irene (Eagle Lake, TX), Jayme Kathryn (San Antonio, TX),and Dera Renae (Mankato, MN), sons Scott LaDell (Tucson, AZ) and Bryan Gerald (Mankato, MN), and grandson Isaiah Michael (Mankato, MN), sisters Shirene Stringer (Mona, UT), and Carla Rae Hancock (San Diego, CA), brothers Glen (Eagle Lake, TX) and Kevin Mortensen (Orem, UT).
Dennis was born May 26, 1951, in Payson, Utah, to Dell LeRoy Mortensen and Mary Irene Jones Mortensen. He grew up in Springville, Utah, and graduated from Springville High School. He married Julie Gustafson in 1981. They had four children and were later divorced. Dennis later married Pamela Kay on May 21, 1997 in Ft. Worth, Texas.
He worked for A&K Railroad Materials for 35 years traveling throughout the United States and then ran the yard in Eagle Lake, Texas, until the time of his death.
Dennis loved to fish and hunt and loved the mountains. His work took him all over the United States however he loved the west, especially Montana.
Dennis was a good father and was involved in his children's lives until the end.
Dennis and Pam loved spending time together and were very happy.