Springville High Red Devils
Class Of 1969
In Memory
Keith Johnson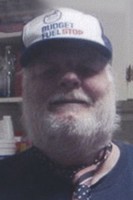 Keith Lamar Johnson, 65 of Springville, Utah passed away peacefully at his home on Saturday, January 21, 2017. He was born on September 21, 1951 in Ogden, Utah to Jack L. and Betty Ann Johnson. He was married to Donna Sheppard on November 17, 1971 and later divorced.
He worked for Valley Asphalt driving truck for many years. He enjoyed being outdoors, camping, hunting fishing and spending time with family and friends. He also loved working on and riding his tote goats.
Keith is survived by his four children: Verl Johnson, Lisa Kay (Eric) Carter of Spanish Fork, Kevin (Christi) Johnson of Salem, and Jennie Johnson of Spanish Fork; 10 grandchildren, 1 great-granddaughter; his father, Jack; two sisters, three brothers and many nieces and nephews. He is preceded in death by his mother, Betty Ann.
Per his wishes, there will be no funeral services. The family will have a memorial service at a later date.