Springville High Red Devils
Class Of 1969
In Memory
Connie Johnson (Taufer)
Connie Mae Taufer
1951-2009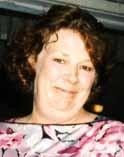 Connie passed away peacefully in her sleep at home on May 4, 2009 with her family by her side. She was born June 10, 1951 in Payson, Utah to Beth and David Kenneth Johnson. She was raised in Springville.
Connie married Steven Taufer on March 23, 1974. She is a member of The Church of Jesus Christ of Latter-day Saints. Connie enjoyed the outdoors. She was a member of a world record funny car pit crew. She loved her roses. Her children and grandchildren were the lights and loves of her life.
Connie is survived by her husband, Steven Taufer; one daughter, Roxanne and Chansy; two sons, Casey & Nichole; Tyler and Shanessa, all of Spanish Fork; one sister, Joanne Draper, Provo; three brothers, Wally Johnson, Payson; John Johnson, Springville; and Craig Johnson, Springville; and 12 grandkids.
She was preceded in death by her parents; a son, Chase; daughter, Tiffany; three brothers-in-law, Albert Draper, Coy Taufer, and Robert Morey.