Springville High Red Devils
Class Of 1969
In Memory
MacArthur Halona
MacArthur Douglas Halona
MacArthur Douglas Halona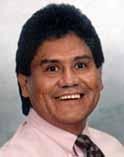 1951 ~ 2009
MacArthur Douglas Halona, 57, of Springville, UT, returned home to his Heavenly Father surrounded by his family, on April 19, 2009 after a courageous battle with cancer.
He was born April 21, 1951 in Gallup, New Mexico to Wallce E. and Betty J. Halona. He spent his childhood years on the Navajo reservation in Tohatchi, New Mexico. At the age of 8 he came to live in Springville through the Indian placement program, graduating from Springville High School in 1969. He attended BYU where he performed with the Lamanite Generation and received his Bachelor's degree in Business Management in 1985. He loved fishing, hunting, yard work, woodcutting, camping, the BYU Cougars, and the Utah Jazz. He was a talented artist and enjoyed studying Church History. Above all he cherished spending time with his family.
He married his best friend Pamela Sue Pendergraft on June 7, 1980 in Orem, Utah and was sealed as her Eternal companion in the Mt. Timpanogas Temple April 11, 2009.
He is survived by his parents; his wife of 28 years; sons and daughters: Leigh (C. Lee) Vornkahl, M. Shane Halona, Jeremy (Delores) Halona, Michael Halona, Utahna (John) Erickson, Desiree' (C. Ryan) Raulston, Andrea "Gia" (Timothy) Carter, and Melody Baldwin Halona; nine (soon to be ten) grandchildren.