Springville High Red Devils
Class Of 1969
In Memory
Randy Goble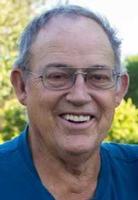 Randy Lee Goble, 68, of Salem, Utah, passed away peacefully at his home on November 17th following complications due to diabetes. Randy was born in Provo, Utah to Keith Roy Goble and Thelma Laraine (Anderson) Goble. He was their second child, with one older sister and two younger brothers. Randy grew up in Mapleton, UT and attended Springville High School and played the position of Lineman on the football team while there. He also had the opportunity to serve in the ROTC. Following high school, Randy served a faithful mission for the Church of Jesus Christ of Latter-day Saints in the Columbus, Ohio mission. Randy always loved learning about Church history, and we believe this is where he may have started this life-long interest.
Following his mission, Randy attended BYU majoring in Engineering. After a few years at school, Randy started his life-long career as a general contractor working numerous jobs throughout his life on commercial and residential projects. Randy and his siblings along with his parents started K.R. Goble Construction. He was always known for his strong work ethic, which his children also acquired. Randy married his sweet companion, Raina Joy Barney, on May 11th, 1973 in the Salt Lake City Temple for time and all eternity. They were blessed to have five children, Jared (Felicia) Goble of Orem, UT, Kimberly (Bryan) Wright of Lehi, UT, Jason (Becca) Goble of So. Weber, UT, Brandon Goble of Salem, UT, and Lindsey (Matthew) Torres of Gardnerville, NV. Randy and Raina Joy raised their children in Salem, UT where they planted deep roots.
Randy was known for his enduring work ethic and dedicated service in his community and in the Church. He served faithfully in many callings, which included High Councilman, Elders Quorum President, Sunday School teacher, and numerous other callings. He also cared deeply about his local community and ran for City Council several years ago. But most of all, Randy enjoyed spending time with his family amongst his hobbies of reading, spending time at his cabin, and traveling all over the country. Some of his most recent destinations included Niagara Falls, Prince Edward Island, the Black Hills, Sequoia National Park, Yosemite National Park and numerous Church sites.
Following Raina Joy's passing in 2003 from a hard-fought battle with cancer, Randy later married Mary Goble in the Provo Temple for time in 2010. Randy and Mary enjoyed traveling together and spending time at the family cabin.
Randy was preceded in death by his first wife Raina Joy, his parents, Keith Roy Goble and Thelma Loraine (Anderson) Goble of Mapleton, UT. He is survived by his three siblings, Karen Goble Ifediba of Springville, UT, Wayne (Susan) Goble of Spanish Fork, UT, and Brent (Sherry) Goble of Lyman, WY. He is also survived by his wife, Mary, and his five children (above) and sixteen grandchildren.
Funeral services will be held on Monday, November 25th at 11:00am with a viewing from 9:30-10:30 a.m. at the LDS chapel located on 60 s. Main St., Salem, UT. There will also be a viewing held on the evening of November, 24th from 6:00-8:00 p.m. at Walker Mortuary, located at 187 S. Main St. Spanish Fork, UT.