Springville High Red Devils
Class Of 1969
In Memory
John Orton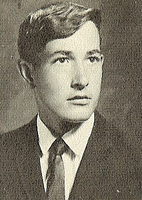 Obituary: John Bayles Orton

John Bayles Orton, 50, of Springville, UT, returned to his Heavenly Father on Tues., Dec. 4th, 2001, after a short battle with Lou Gehrig's Disease. He is loved by many, and his life was a tribute to service and caring.
John was born Sept. 19, 1951 in Payson, Utah, the fourth child to Dr. Glenn B. and Iris Cottam Orton. He was always trying to better himself and learn. He spent time at Utah Valley State College, Brigham Young University, and the University of Utah. His knowledge was very diversified, and he used it to teach and help others. He learned the value of hard work at an early age by working with his father and brothers on the family's farm. His skills were put to much use keeping the farm running after his father's passing 21 years ago. Among the things he loved were collecting guns, welding, mechanics, and restoring and rebuilding cars and motorcycles. He loved to lift weights, and his strength was called upon often to help others with whatever tasks they had. He never turned anyone down when asked to help. He held the office of elder in The Church of Jesus Christ of Latter-day Saints and his faith was ever strong and unwavering. He lived with his mother and took care of her and the family home and garden. He is survived by his mother, one sister and five brothers: Sally Showgren (Eric) Mapleton; L.C. "Pete" (Vickie) Springville; Eric (Joan) Mapleton; Larry (Sonja) Elko, NV.; Dr. Dean (June) Lincoln City, OR.; Dr. Brent (Dr. Marie) Kirksville, MO. Many nieces, nephews and grand-nieces and nephews will miss his teasing.