Springville High Red Devils
Class Of 1969
In Memory
Vicki Vincent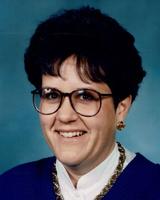 Victoria Ann Vincent

Rock Springs - Victoria Ann Vincent, 67, of Rock Springs passed away peacefully, surrounded by family members at the University of Utah Hospital in Salt Lake City, UT, in the evening of June 19, 2018.
She was born April 23,1951 in Payson, UT, to Willard Leon and Theresa Norma Roy Vincent. She is survived by her brothers, Dan (Melissa), Jeff (Claudia), and Richard (Joanne), her sister-in-law Janice (Mike), and many nieces and nephews and their children.
She was preceded in death by her twin sister, Valerie Ann, her mother, Theresa, her brothers James Leon and Michael Floyd, and her father Leon.
Vicki was the first of her siblings to graduate from college, receiving a Bachelor's degree from BYU and a Master's degree from New York University in English Literature. She taught for a few years in Ottawa, Ohio, then settled in Rock Springs, Wyoming, where she taught English and French to two generations of students. She spent many summers organizing and conducting education tours to Europe, where she led her students by example, speaking fluent French. She was honored with a Robert Frost fellowship, and in Washington, D.C. by our nation for her work as a teacher.
She was an active member of The Church of Jesus Christ of Latter-day Saints, and was a tireless advocate for the downtrodden. She was active in the arts in Rock Springs, and taught many students to play the piano. Like her mother, she was known as an excellent cook, and many local families benefitted from her culinary talents - she was often the first on the scene with a meal to a family in need.
She was beloved by the community and those who came to know her through her service to other cities. Among other things, she will be remembered for her compassion, her wit, her ability to connect with students and others, and her love of her beloved canine companions.